RACERS READY!!??   AND……….
BANG!!!(HEY NEWBIE, THAT MEANS GO!)
Alright aspiring newbie Nordic racer, you've done a few intervals. You annoyed some faster skiers by jumping on their heels and trying to hang as they passed by at Round Valley or White Pine Touring. You're feeling good about your fitness level and now have some idea of what kind of pain you can endure. You've got a little over two weeks to go until the Round Valley 40 and 20k's on March tenth and you're ready for the next step towards actually getting in a race.
Backcountry.com Semi-Annual Sale – Up to 60% Off 25,000 Items
This is when thinking about some of the finer points of racing such as waxing come into play. Getting the right wax for the snow conditions on race day will greatly enhance the experience of racing, especially the first time out. You don't want to have really slow skis for your first race. Slow skis are nothing but a big drag! But Nordic waxing can be fairly intimidating to a newcomer.
There are a lot of factors to consider such as the temperature of the track, the water content in the snow, and whether or not the snow is warming or cooling. Now you are thinking "what the……have I got myself into?" let alone the thought of buying waxing irons, scrapers, and fibrelene. Wait, you don't even know what that is yet! For the above reasons, I cant stress enough the value of attending a waxing clinic put on by a local shop in your area and starting off with an all inclusive waxing kit. Actually seeing a Nordic wax tech do a hot wax and scrape will greatly speed your learning curve. The all inclusive kits come with an iron and several temperature ranges of wax which are ideal to start out with but not technically overwhelming.  White Pine Touring here in Park City is a great resource for clinics. Another incredible resource for waxing is youtube. The tutorials available pretty much cover all angles of Nordic waxing and are produced by accomplished professionals with in the industry.
So maybe even after a clinic and some youtube vids, you are still a little to intimidated to race wax your own skis but you still want to go fast? This is again where the professionals come in. A place like White Pine Touring or your local Nordic center will take care of that for you and this is actually the option I recommend for a first time racer. Take the stress out of it and just drop those sticks off for buffing. This way a first timer gets the feel of a fast ski without the stress of doing the prep work and this experience can go a long ways towards helping decide if this sport is for you.
With just under two weeks to go until race day, a lot of ground has been covered. The newbie is feeling good about fitness, waxing options, and now it is time to get organized! In part three of this series I will cover how to get yourself organized on race day so you have maximum time to warm up and be ready for the gun. So get out and get in some K's as Round Valley is coming!
Keep Skatin! PPPC.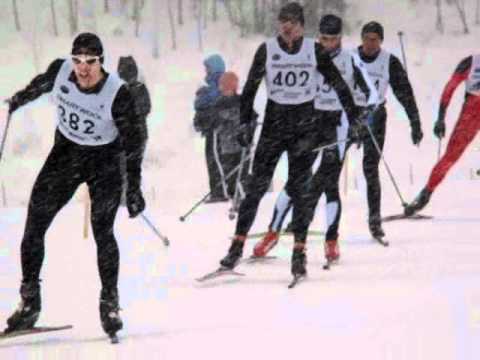 More blizzard racing video! Not sure when the shift occurred but racing in Utah usually means blue skies, perfect temps, and great courses. This season is all about blizzards, only on race day of course!