Normally here at the PPPC, we do not give a rats ass about what mainstream, off brand puffy jacket wearing, non full carbon/ slack geo/enduro mtn bike rydn, society thinks about anything that goes on in the mountains or the culture surrounding it as the slopes, single tracks, trails, nordic centers, ect are already pretty full. Reacting to some Manahattanite's drivel about "Cross Country Skiing" is not really a priority.
But, Gentle Reader, every once in a while you come across a piece that is really special and NYT's Sam Anderson's "What Cross Country skiing reveals about the human condition" is this on the Russian Track Teams PED regimen!

To be honest, I was pretty much done with this guy after the first sentence about winter sports all being a "total Hassle".
"Every winter sport is — in addition to being an inspiring triumph of elegant majesty — also a total hassle. It is not easy to convert your soft, frail, squishy, warm human body into something that can survive in the hard world of frozen water. It requires all kinds of logistics: fitting, strapping, buckling, bundling, clomping, shivering."
Yeah, loading skis into a car and putting on a jacket, pretty much insurmountable and Woah there Sambro; already strike one as XC skiing is THE least hassle by a magnitude 55 compared to a day up the LCC but I digress… Sambro here, in addition to being overwhelmed by loading some skis in a car, just doesn't know anything about "Cross Country Skiing".
The statement; "Even the sport's greatest champions, over the course of an event, average speeds that would be legal in a school zone. In the racers' slowest patches, struggling up terrible hills, schoolchildren could probably outrun them." is so comically written by someone who has never attended an actual "Cross Country" Ski race as the speed smacks you straight upside the face!
Not sure I see anything slow going on here but Sambro from Manhattan might know differently;

The intern searched around the net real quick to see if we could locate Sambro;


PPPC staff is not yet convinced Sambro has ever been outside longer than the walk from the uber to the east village coffee bar but we are VERY biased and jaded.
Does the Manhattanite Nordic Expert, even realize that in "Cross Country Skiing" there are 2 disciplines? Skate and Classic?…….Sambro?…….Hello?
Classic is, of course, hella fast as well;

Sambro, The Nordic Skiing Expert wouldn't know it as he, due to no hassles or insurmountable loading of skis into a car, is most likely inside with a good book;

Then we get this Pulitzer worthy observation; "Cross-country skiing is where the elegant majesty of winter sports goes to die an excruciatingly drawn-out death. So why would anyone do it? And why on earth would we ever watch?"

Well Sambro, Grace Be to ULLR!, how about this;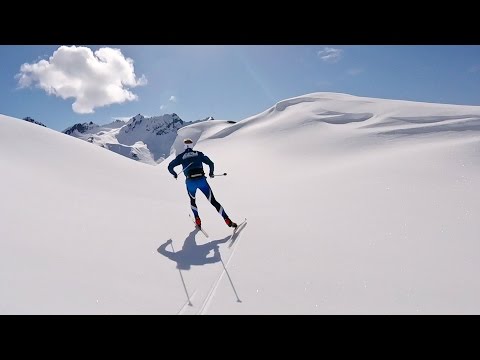 Gentle Reader; correct me if I am wrong but all I see here IS Elegant Majesty!
SO what the F is this supposed informed, professional journalist writing about?
Every old story stereotype of the sport he ever heard in his life!
Fake News!
Ok, back to living the dream…….
The Editor;
PPPC