Perfect conditions despite low snow.
A weekend skate at Round Valley turned into a mini Wasatch adventure complete with some pro dogsled racing this past Saturday. The fantastic trail system and Utah Brand blue skies, mild winter temperatures and a few lingering clouds made it the ideal day to recreate in the mountains. Round Valley is a trail system located just east of Park City and it is maintained by the Mountain Trails Foundation. The area has around 20k of fast, rolling, well groomed, multi use trails. In the summer the area doubles as a single track gymnasium perfect for mountain biking and trail running but more about that when the snow melts. Since it is a multi use area, you will run into walkers, dog walkers, snow bikers, Nordic skiers, and all various combinations of the above.One unbelievable aspect of Round Valley is the it is FREE! Of course you can join Mountain Trails Foundation but there is no trail fee winter or summer. Like I mentioned above, the Nordic skiing was also backed up with some Pro Dogsledding! An event was going on near the National Abilities center which paired up Pro Mushers with local area junior mushers. You should have been aournd to hear those happy dogs barking and just waiting to pull those sleds! The video clip below combines the great skiing and the super charged atmosphere from the dogs yelping plus a few shots of sleds taking off from the line.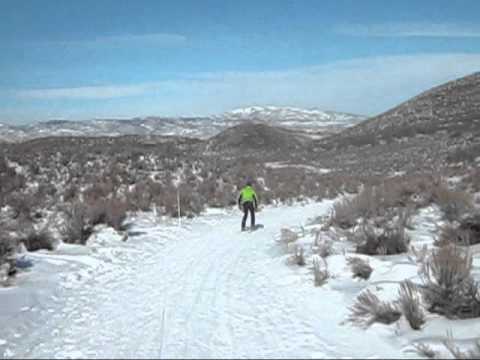 Chris McMaster, Owner and Operator of Ultralight Adventure equipment was kind enough to provide action model services in the video. Of course his backyard is Round Valley so running into him over there is pretty typical. Round Valley is a great example of the recreation opportunities that we have available here in the Wasatch mountains. Stay posted to Pedal and Pole as we continue to explore all the possibilities!
Yakima Cargo Box Rebate is LIVE! Receive Up To A $125.00 Rebate And FREE Shipping @ Mountains Plus. Offer expires 3/22/2012.